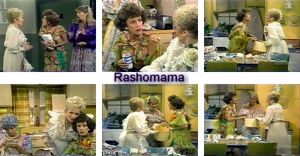 &nbsp
Naomi, Ellen, and Eunice are in a panic at the hospital because Mama has had an accident. Vint comes and asks what has happened. But each of the women has their own tale about how it happened. In Naomi's story, she is Mama's darling and Eunice and Ellen fight and accidentally hit Mama with the pot. In Ellen's story, Ellen is the saint, Naomi acts like a child, Eunice is mean, Mama is two cans short of a six-pack, and it is Naomi and Eunice who accidentally hit Mama. In Eunice's version of the story, Ellen is an evil, rich snob, Naomi is a complete tramp, and Ellen and Naomi hit Mama with the pot. After the stories are told, Mama is released, and Vint asks who hit her, but she says she's never seen any of them before in her life. Later at home, they are sampling the jam, and Vint helps Mama clean up, accidentally hitting her with the pot.
Ad blocker interference detected!
Wikia is a free-to-use site that makes money from advertising. We have a modified experience for viewers using ad blockers

Wikia is not accessible if you've made further modifications. Remove the custom ad blocker rule(s) and the page will load as expected.