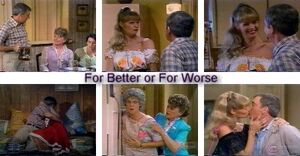 &nbsp
As the family is sitting down to dinner, Naomi comes over and announces that she has sold her home and is going to move away. To celebrate, she and Vint head to the Bigger Jigger. After drinking and celebrating, they return to Mama's, and Naomi ends up spending the night. The next morning, Mama sees Naomi leaving and freaks out. She tells Vint he cannot see Naomi anymore, and Vint tells Naomi. But Naomi has a plan to move to Arizona to manage a trailer park that wants a husband and wife team. Vint ends up asking Naomi to marry him, and she says yes. Vint tells Mama, who is in shock. She calls Naomi a tramp, and Naomi puts Mama in her place. They say they plan to just get married on their way out of time. But Mama tells them they can get married at her house.
Ad blocker interference detected!
Wikia is a free-to-use site that makes money from advertising. We have a modified experience for viewers using ad blockers

Wikia is not accessible if you've made further modifications. Remove the custom ad blocker rule(s) and the page will load as expected.